The Essential Annapurna Base Camp Trekking Guide
Situated in the heart of Nepal's largest conservation area, the mighty Annapurna massif towers above its surroundings.
While climbing the world's tenth highest peak is a physically grueling and technically challenging feat, it is far from the only way to experience the region's breathtaking beauty.
Around a half-dozen of Nepal's most popular treks take place in the Annapurna Conservation Area, which usually hosts one-third of all trekkers visiting the country in any given year.
Of these treks, the Annapurna Base Camp (ABC) Trek is easily the most popular, allowing visitors to explore the country's sublime natural beauty, meet local people and experience their unique culture, and see some of the country's iconic plants and animals.
While visiting ABC should be at the top of every trekker's bucket list, it is critical to know what to expect before buying plane tickets and flying to Kathmandu.
Below, we've listed everything you need to know before you go on the adventure of a lifetime.
Where is Annapurna Base Camp?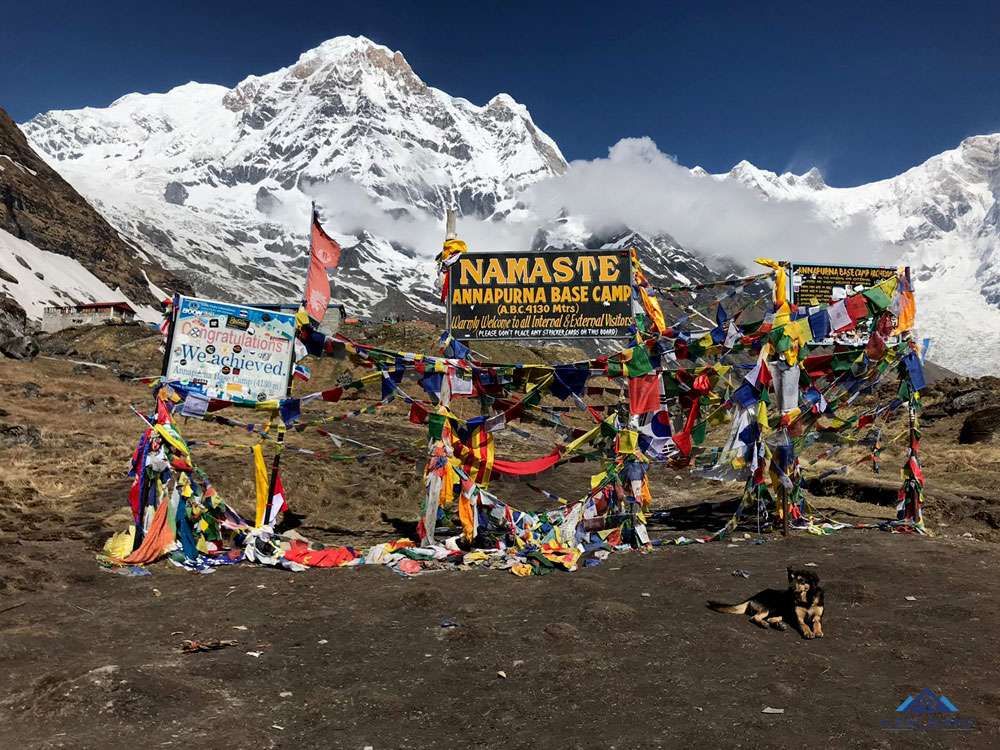 Annapurna Base Camp (28° 31′ 48″ N, 83° 52′ 40.8″ E) is located in north-central Nepal, in the heart of the Himalayan mountains.
Keep reading: The Essential Everest Base Camp Guide
More specifically, it sits in the Annapurna Sanctuary glacial basin just south of the massif, about 40 kilometres (25 miles) north of Pokhara and 170 kilometres (105 miles) northwest of Kathmandu.
The elevation of Annapurna Base Camp is roughly 4,130 metres (13,550 feet) above sea level, about 1,250 metres (4,100 feet) lower than Everest Base Camp.
How long is the Annapurna Base Camp trek?
The average Annapurna Base Camp Trek covers about 110 kilometres (70 miles) and takes 14 days. However, some guides offer abbreviated versions that last just one week.
The standard 2-week itinerary usually includes 10 days of trekking from Nayapul to the base camp and back, along with two days at the beginning and end dedicated to getting trekkers from Kathmandu to Pokhara and back.
When is the best time to do the Annapurna Base Camp trek?
October is the most popular month to do the Annapurna Base Camp Trek. However, most guides offer expeditions from September through May.
The period from September to November is the most popular time to do the trek as the weather is generally most clear at this time of year. As a result, the area is usually pretty crowded.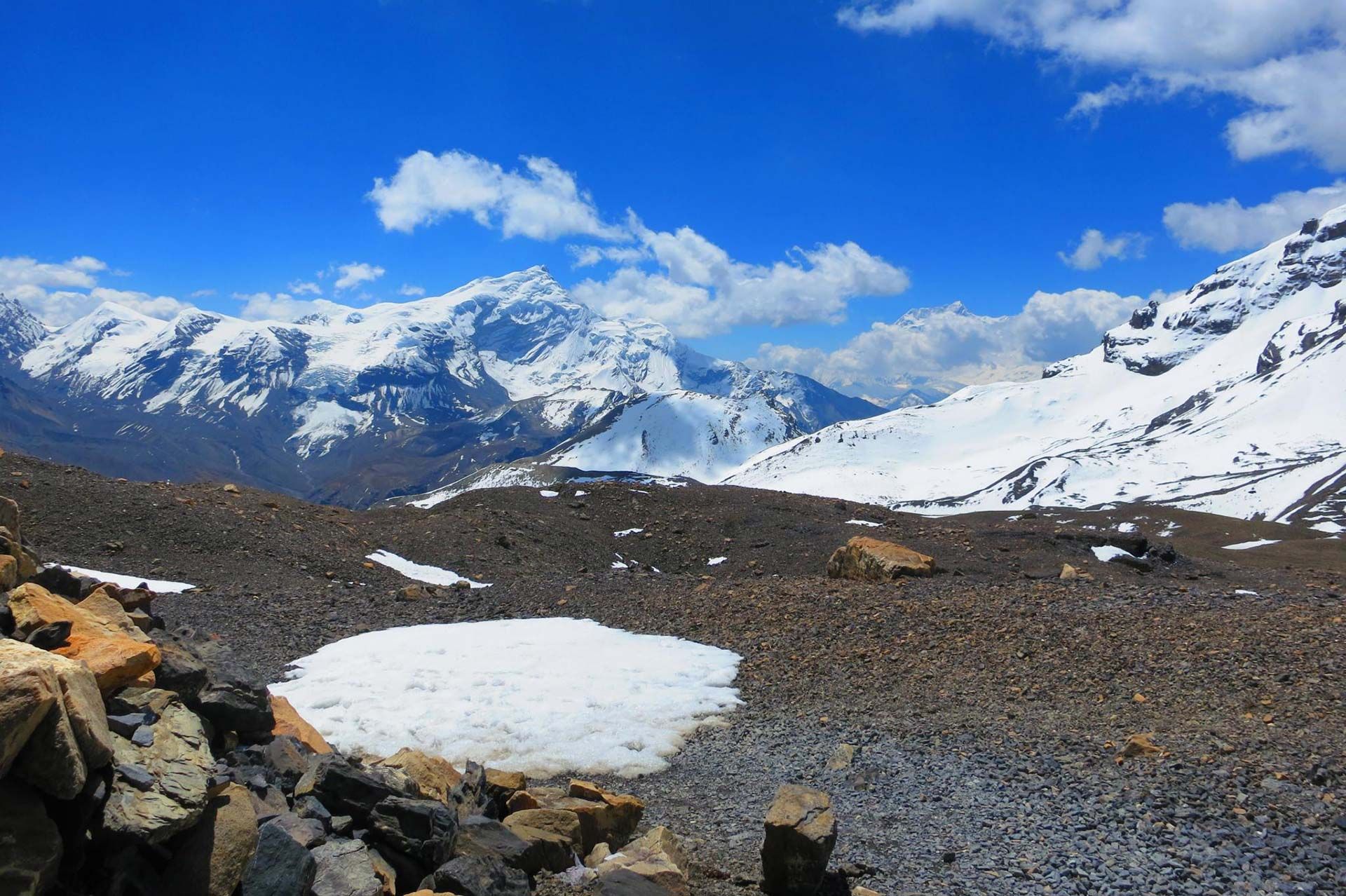 During the autumn, average temperatures sit at about 15 ºC (60 ºF) and decrease as elevation is gained.
Trekkers seeking to avoid the crowds frequently opt to go to ABC during the winter or spring. As expected, winter is the coldest time of year to do the trek and runs the risk of being interrupted by snowstorms. However, far fewer people are in the conservation area.
The spring is considered the most beautiful time of year to visit and the flowers are beginning to bloom, and temperatures warm up to about 17 ºC (63 ºF). However, this is also the haziest time in the Himalayas and views may be obscured as a result.
How difficult is the Annapurna Base Camp trek?
The Annapurna Base Camp trek is considered a moderately difficult trek, but no technical mountaineering skills are required.
An average day will involve 4 to 6 hours of walking. Some days may only require 3 hours and other days may involve as many as 7 hours.
However, there is a substantial gain in elevation – about 2,600 metres (8,500 feet) from the start of the trek to ABC. Even so, any fit person can complete the trek without previous experience.
What is a standard Annapurna Base Camp Trek itinerary?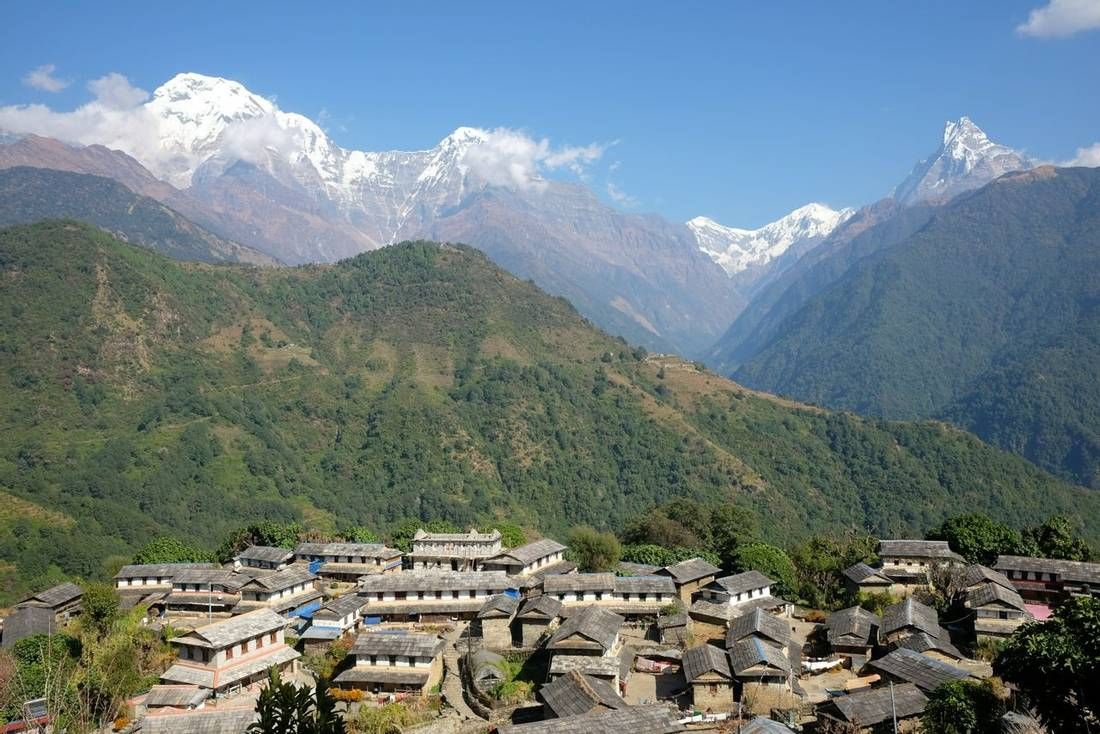 Below is a standard 14-day itinerary for the Annapurna Base Camp trek. Remember, there are several variations of the trek. However, these all tend to meet at Chomrong around the fifth day and continue along the same route to ABC from there.
| | | | |
| --- | --- | --- | --- |
| Day | Description | Walking Distance | Elevation |
| 1 | Arrive in Kathmandu | – | 1400 m |
| 2 | Travel to Pokhara | – | 820 m |
| 3 | Drive to Nayapul and trek to Ulleri | 15 km | 1430 m |
| 4 | Ulleri to Ghorepani | 10.5 km | 2860 m |
| 5 | Ghorepani to Poon Hill (3210 m) to Tadapani | 10 km | 2610 m |
| 6 | Tadapani to Sinuwa | 11.5 km | 2340 m |
| 7 | Sinuwa to Deurali | 11 km | 3230 m |
| 8 | Deurali to ABC | 9 km | 4130 m |
| 9 | ABC to Bamboo | 16 km | 2050 m |
| 10 | Bamboo to Jhinu-Danda | 12 km | 1700 m |
| 11 | Jhinu-Danda to Nayapul to Pokhara | 13 km | 820 m |
| 12 | Pokhara free | – | 820 m |
| 13 | Return to Kathmandu | – | 1400 m |
| 14 | Departure | – | – |
For those who do not have the full 14 days to complete the itinerary, a standard 7-day alternative involves trekking from Nayapul to Ghandruk; Ghandruk via Sinuwa to Chomrong; Chomrong to Deurali and Deurali to ABC. The return itinerary is the same as days 9 to 11 in the above itinerary.
What are the highlights of the Annapurna Base Camp Trek?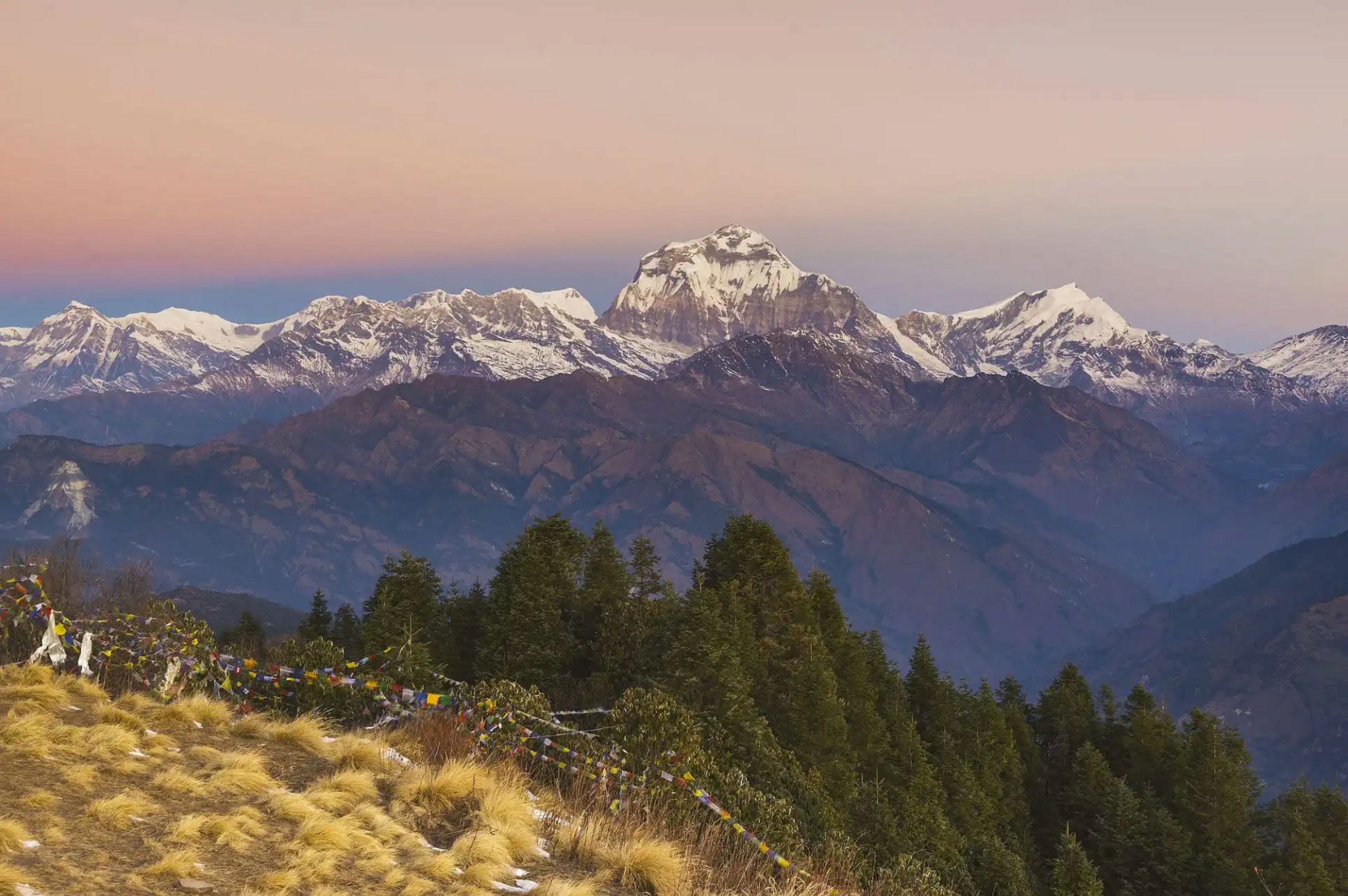 The ABC trek is widely considered to be one of the most beautiful treks in the world. The adventure begins with terraced slopes and involves passing through picturesque villages.
Throughout the journey, trekkers will have the opportunity to meet local people and learn more about their history and culture. This is especially true when staying in the local tea houses. However, there are also options to camp for a more immersive experience in nature.
One of the highlights of any trek comes early on with the ascent of Poon Hill. Rising to 3,210 metres (10,531 feet) in elevation, the hill is located just west of Ghorepani.
Most ABC treks will involve a pre-dawn ascent of the hill in order to watch the sunrise over the Himalayas. Sublime is an over-used word, especially in the adventure tourism vernacular, but experiencing the sunrise from the top of Poon Hill is truly a sublime experience.
Keep reading: Five Popular High-Altitude Lake Treks in Nepal
After leaving Ghorepani and Poon Hill, trekkers will continue the adventure by hiking through thick rhododendron forests. During the spring, these marvelous trees blossom and bathe the surroundings in shades of purple and red.
As trekkers steadily gain elevation on the approach to Annapurna Base Camp, there will be plenty of opportunities to pause at scenic vistas and enjoy close-up views of Dhaulagiri, Machapuchare and, of course, the Annapurna massif.
After arriving at the Annapurna Sanctuary and experiencing a bit of base camp life (without the climbing), the return to civilisation begins.
The last main highlight of the trip comes in Jhinu-Danda. After a long day of walking, trekkers will be able to soak in the area's natural hot springs and reminisce about the trip before continuing back to the trailhead and driving back to Pokhara.
How much does the Annapurna Base Camp trek cost?
According to data from ExpedReview, the average Annapurna Base Camp trek costs about $1,650 per person.
This price likely includes and does not include the following:
Included:
Airport pick up and drop off in Kathmandu
Shared accommodation and breakfast in Kathmandu and Pokhara
Ground transport from Kathmandu to Pokhara
Tea houses along the trekking route
Full board meals during the trek
Certified guide and porter
Trekking permits
Excluded:
International airfare
Nepal entry visa
Insurance
Tips for guides, drivers and porters
Alcoholic beverages and some non-alcoholic beverages
Snacks
Personal expenses
Remember, this is just an example. Every guide is different. Always check with the guide to see exactly what is and is not included in the price of the trip.
So what are you waiting for?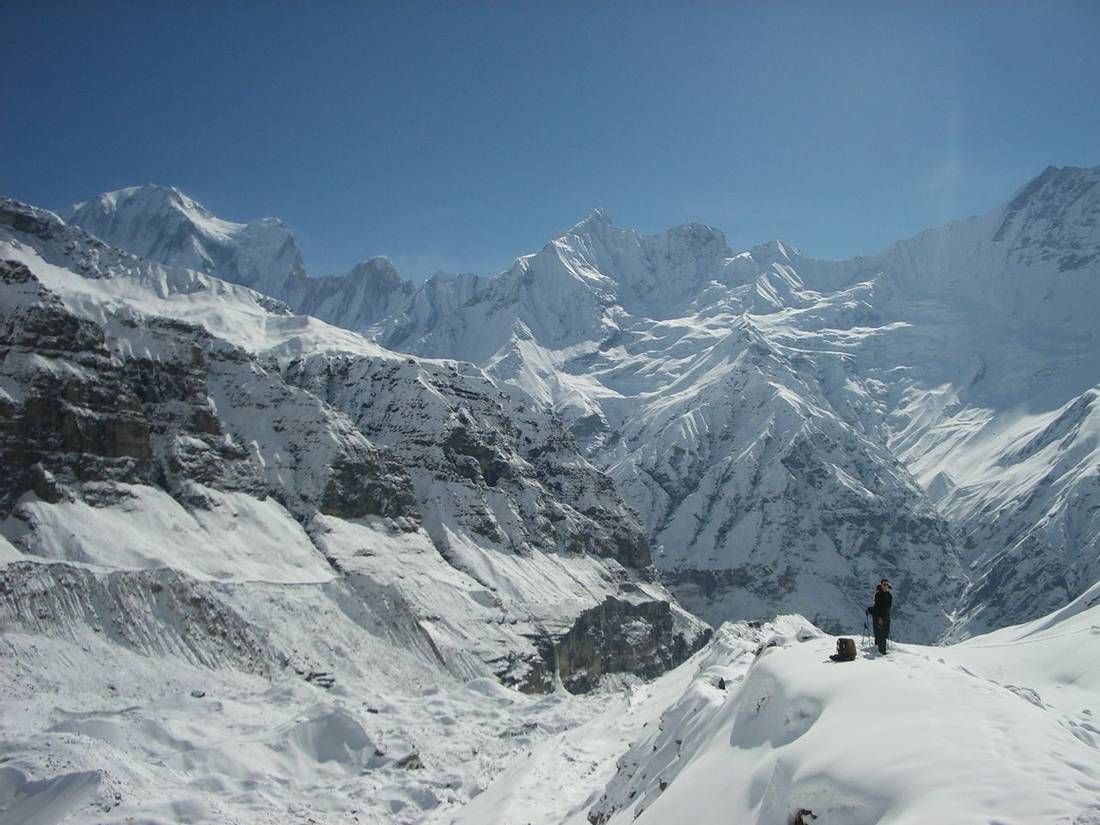 The Annapurna Base Camp trek is sure to be an extraordinary experience, full of incredible scenery, interesting people and unforgettable adventure.
Compare prices, trips and read verified reviews on ExpedReview for free. It's never too early to start planning your next Annapurna Base Camp trekking adventure!
Recent posted
Related locations
Related articles