Day 1
TRAVEL  •  348′ | 106M
4:00 p.m.: Meet the guides at Anchorage International Airport (Domestic Terminal), carousel 1 in Alaska Airlines baggage claim.
Shuttle transportation to Talkeetna is included in the program. The shuttle leaves at 4:30 p.m. and takes three hours to arrive in Talkeetna. The group will stop at a grocery store in Wasilla for the opportunity to purchase any fresh food you'd like to bring on the mountain. The team will arrive in Talkeetna at approximately 9:00 p.m. Overnight in Talkeetna.
Day 2
PRE-TRIP PREPARATION AND TRAINING  •  348′ | 106M
7:00 a.m.: Team Breakfast Meeting
Our main goal today is to get the team ready to fly onto the mountain. After our breakfast meeting, the team attends a National Park Service presentation on expedition climbing and special considerations about Denali National Park & Preserve. Next, we focus on equipment, including an extensive personal gear check and recommendations for what to bring onto the mountain and how to pack for the flight to Base Camp. Finally, we organize the group food and equipment, putting the final touches on our packing for the flight. We enjoy a final meal in town before our expedition begins. Overnight in Talkeetna.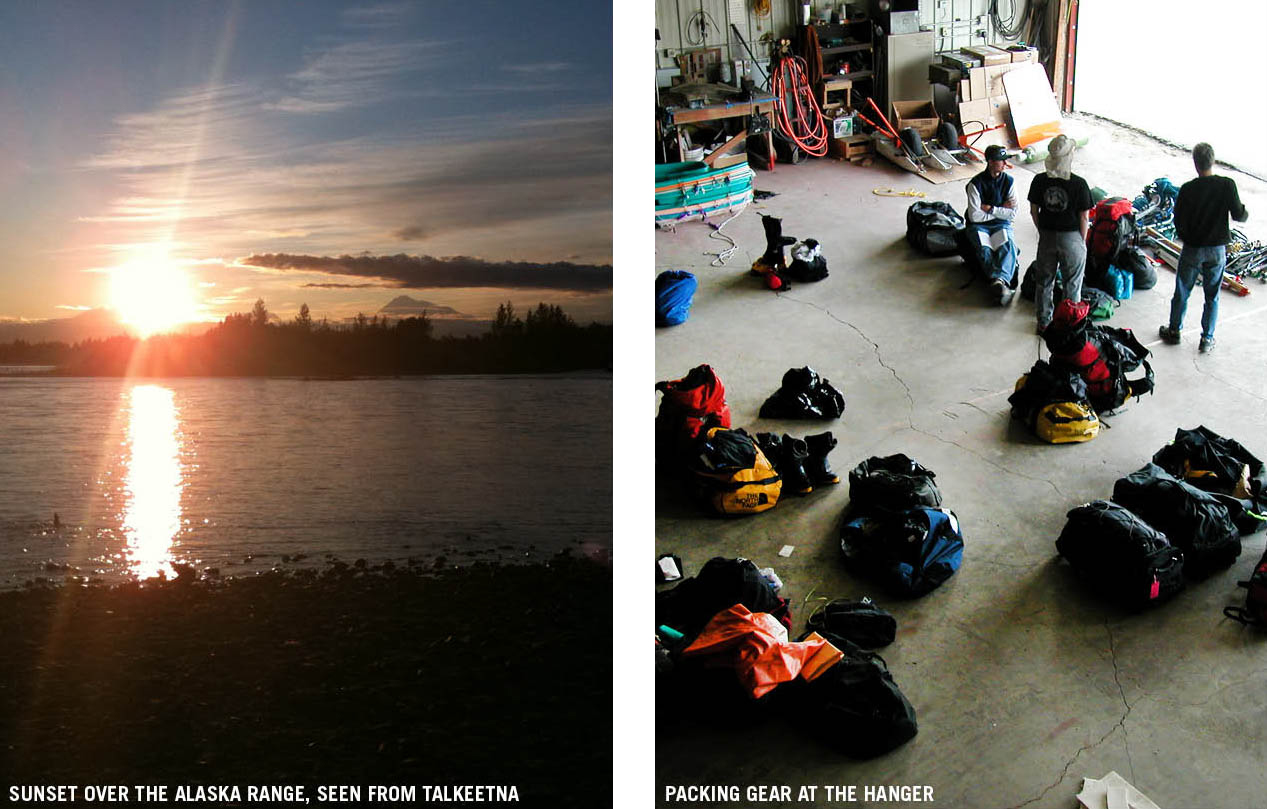 Day 3
FLY TO KAHILTNA BASE CAMP  •  7,300′ | 2,225M
After breakfast we meet at K2 Aviation for the bush plane flight to Kahiltna Base Camp, weather permitting. The spectacular scenic flight takes approximately 45 minutes. Kahiltna Base Camp lies at 7,300′ on the S.E. fork of the Kahiltna Glacier, approximately 20 miles distant and 13,000′ below the South Peak of Denali, at 20,320′. At Base Camp we rig our sleds and review mountaineering skills needed for our climb.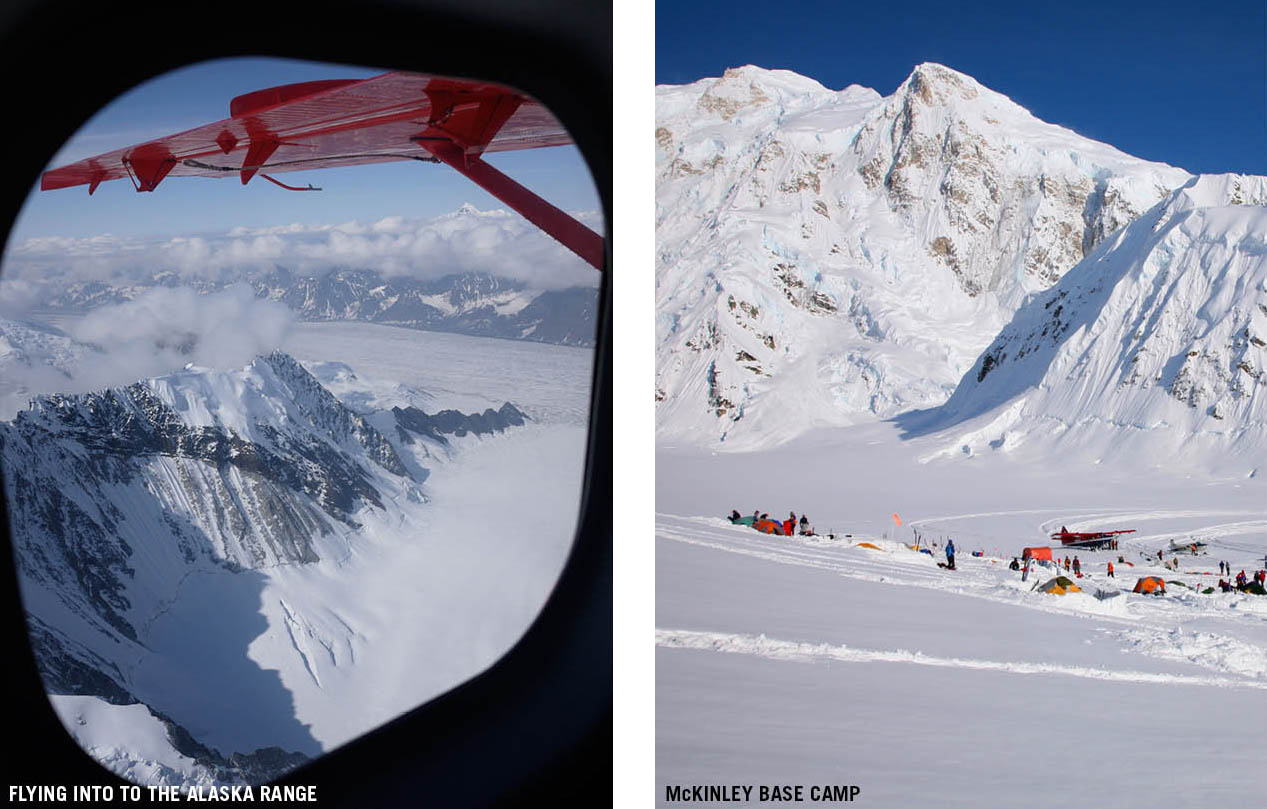 Days 4 – 19: THE EXPEDITION
There are many variables on a Denali expedition. While most expeditions average 18 days from Base Camp to Base Camp, we never place an ending date on our programs. We purposely build flexibility into our itinerary to take into account weather, route conditions, acclimatization, and the strength of the climbing team. This flexibility allows us to move higher when the weather permits and climbers are ready. Our experienced guides closely monitor climbers' performance and acclimatization throughout the team's ascent and may make day-to-day variations in order to better our chances of reaching the summit.
We pack each expedition with twenty-two man-days of food. In the event of bad weather, this amount can be stretched several additional days. Furthermore, there are emergency food rations at Kahiltna Base Camp, in case weather prevents the group from flying off the glacier.
The following itinerary is meant to highlight the camps, route details, and a day-to-day outline while on the mountain. It does not take into account any sort of delays.
Day 4
KAHILTNA BASE CAMP TO THE BASE OF SKI HILL • 7,800′ | 2,377M
Leaving Kahiltna Base, we descend 400′ down Heart Break Hill to the main Kahiltna glacier, where we turn towards Denali, and travel 5.5 miles up the gently rising glacial rolls. Our camp sits at the base of Ski Hill at 7,800′.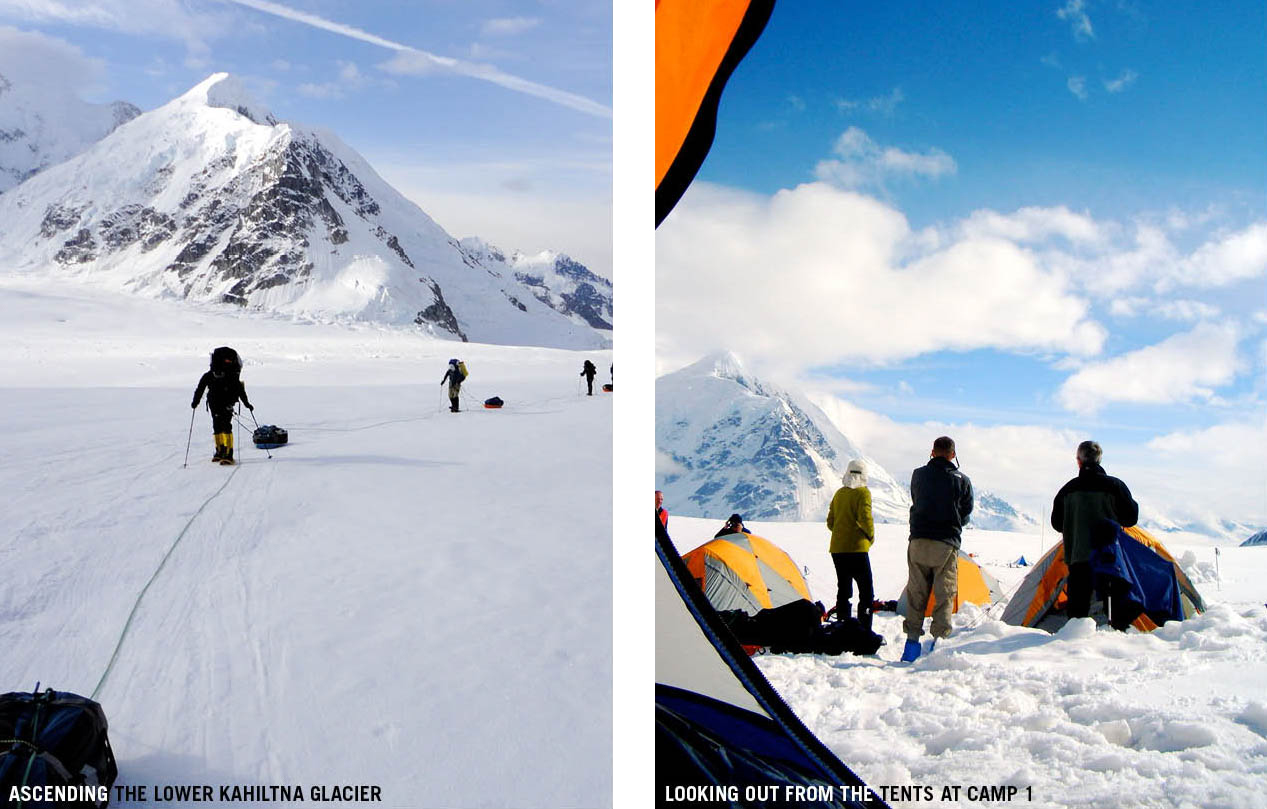 Day 5
BASE OF SKI HILL CAMP TO 9,600′ CAMP • 9,600′ | 2,926M
Ski Hill is the first major elevation gain of the trip. In a series of rolls, the Kahiltna glacier rises from our camp at the base of Ski Hill towards Kahiltna Pass at 10,000′. We leave camp, and climb up the glacier to our second camp at 9,600′, just below Kahiltna Pass.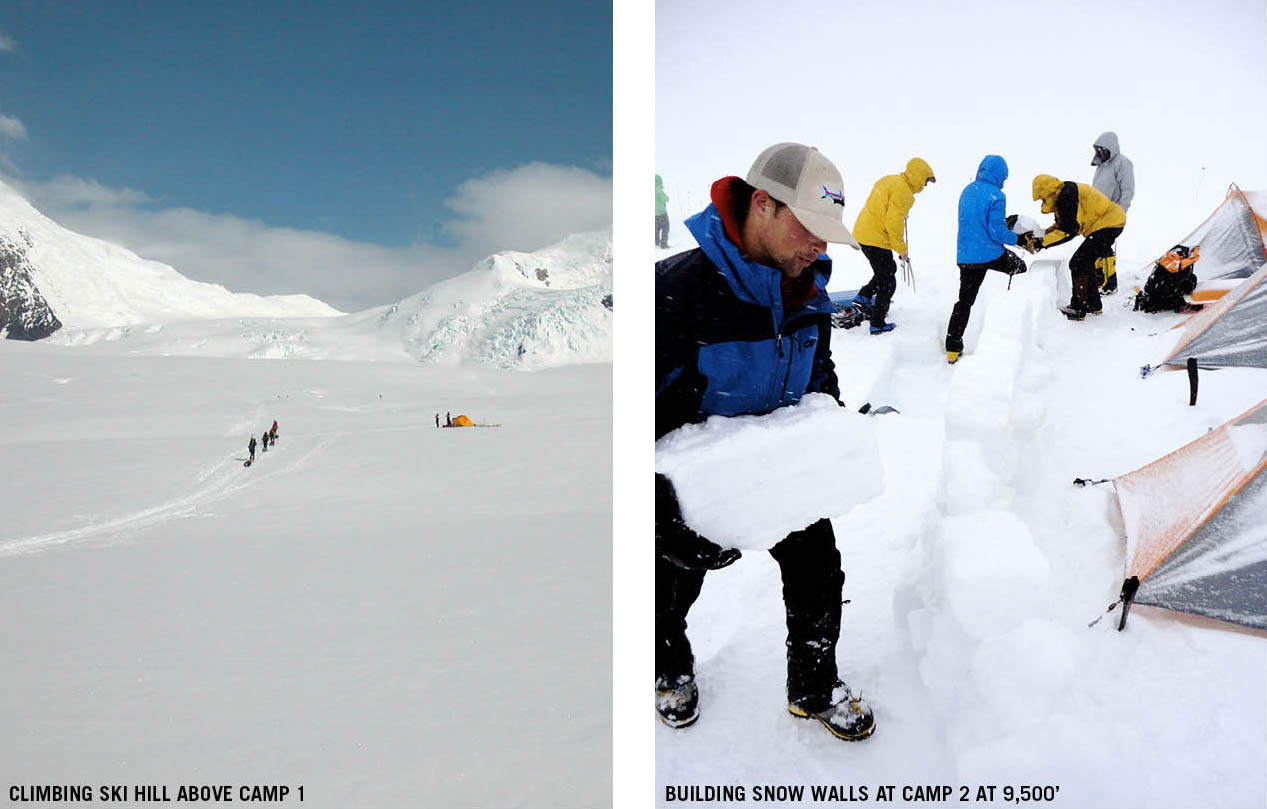 Day 6
9,600′ CAMP TO 11K CAMP • 11,200′ | 3,414M
At Kahiltna Pass, the Kahiltna glacier makes a prominent turn to the east, continuing up a glacial valley into our camp in a basin at the base of Motorcycle Hill.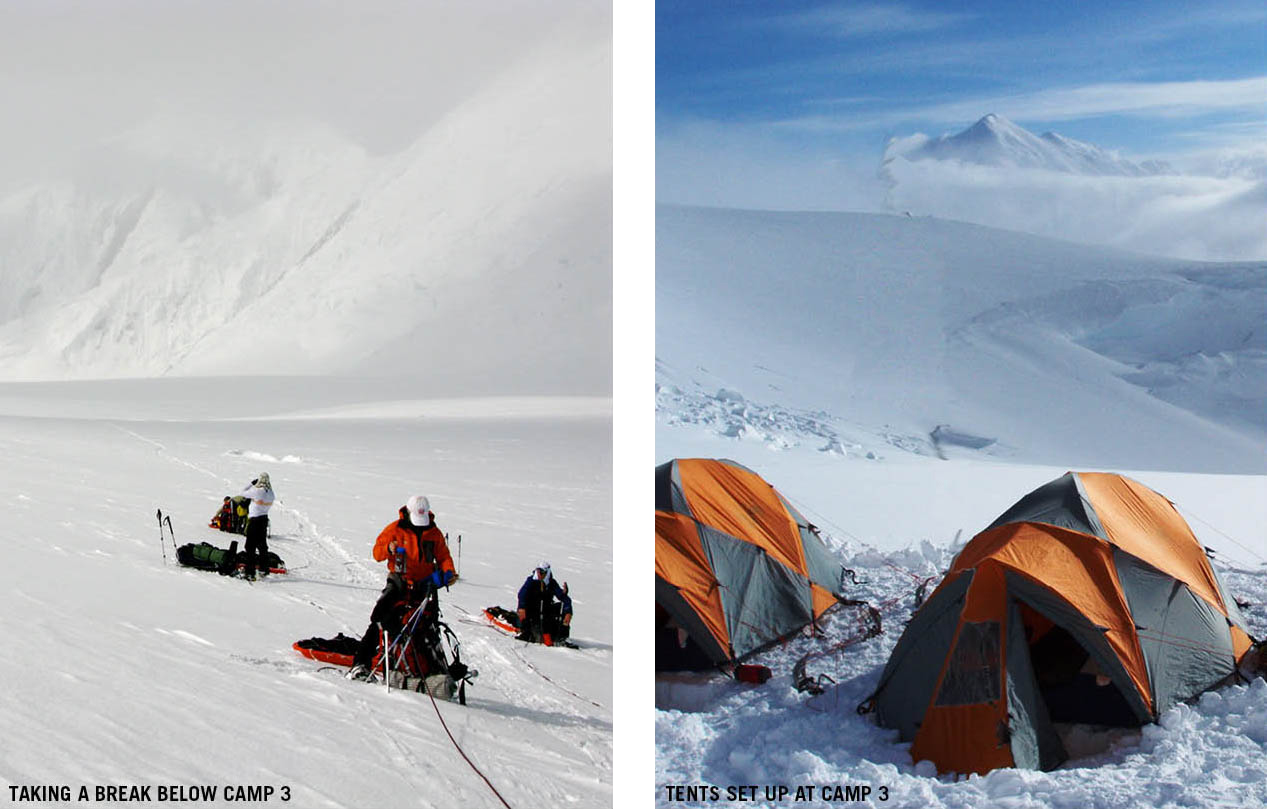 Day 7
ACCLIMATIZATION DAY AT 11K CAMP • 11,200′ | 3,414M
We spend the day resting, reviewing crampon and self arrest techniques, and sorting loads in anticipation of our carry day.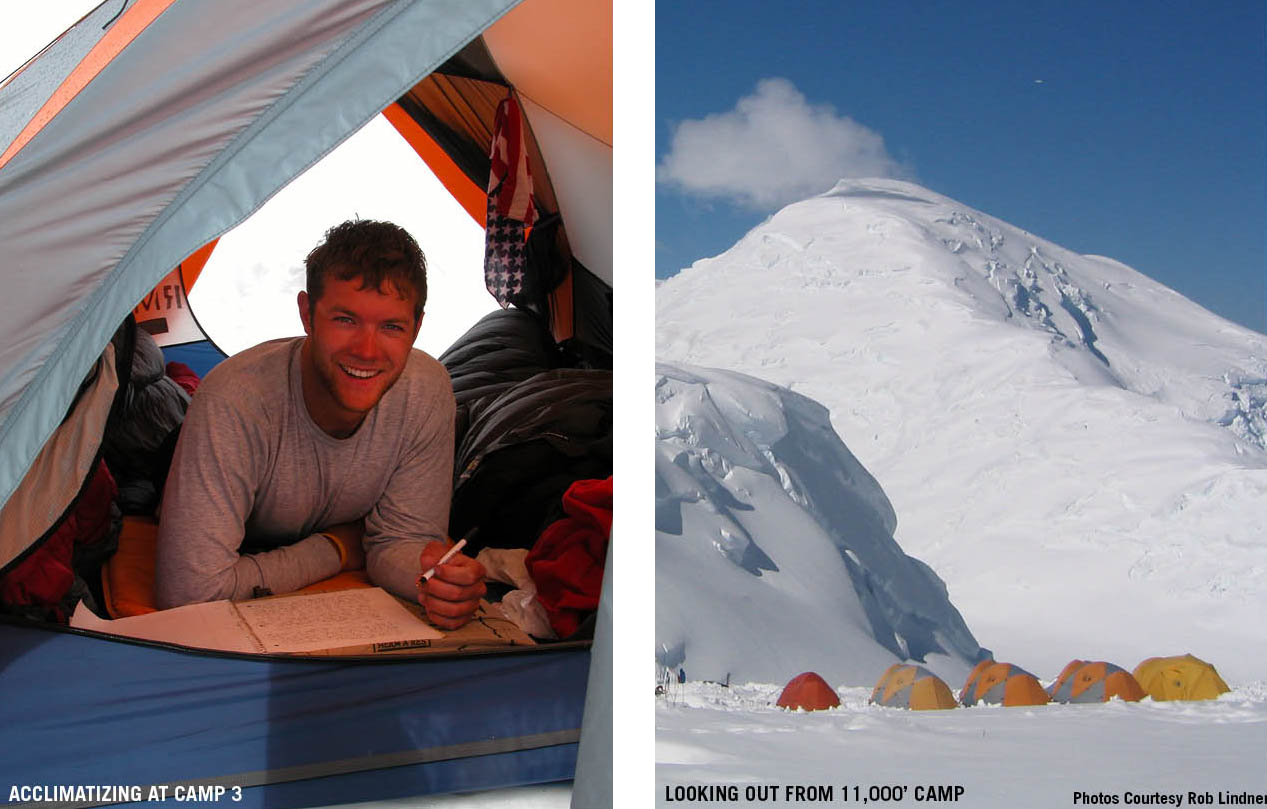 Day 8
11K CAMP TO CACHE (13,500′) • 11,200′ | 3,414M
Leaving camp, we climb Motorcycle Hill to a bench with stunning views of the Father and Sons Wall, and the Peters Glacier. The subsequent climb up Squirrel Hill leads us to the Polo Field, a wide glacial bench at the foot of the West Buttress. We traverse around Windy Corner at 13,300′ to our cache site at 13,500′. After leaving our load of group food, fuel, and personal items, we descend back to our tents at 11K Camp.
Day 9
ACCLIMATIZATION DAY AT 11K CAMP • 11,200′ | 3,414M
This is an important acclimatization day before our move to 14K Camp. We spend the day resting, hydrating, eating, and organizing our loads for our move day.
Day 10
11K CAMP TO 14K CAMP • 14,200′ | 4,328M
After breaking camp we make our move to 14K Camp. We once again climb around Windy Corner, and passing our cache site, continue to climb to our camp at 14,200′ in Genet Basin, our home for the next several days.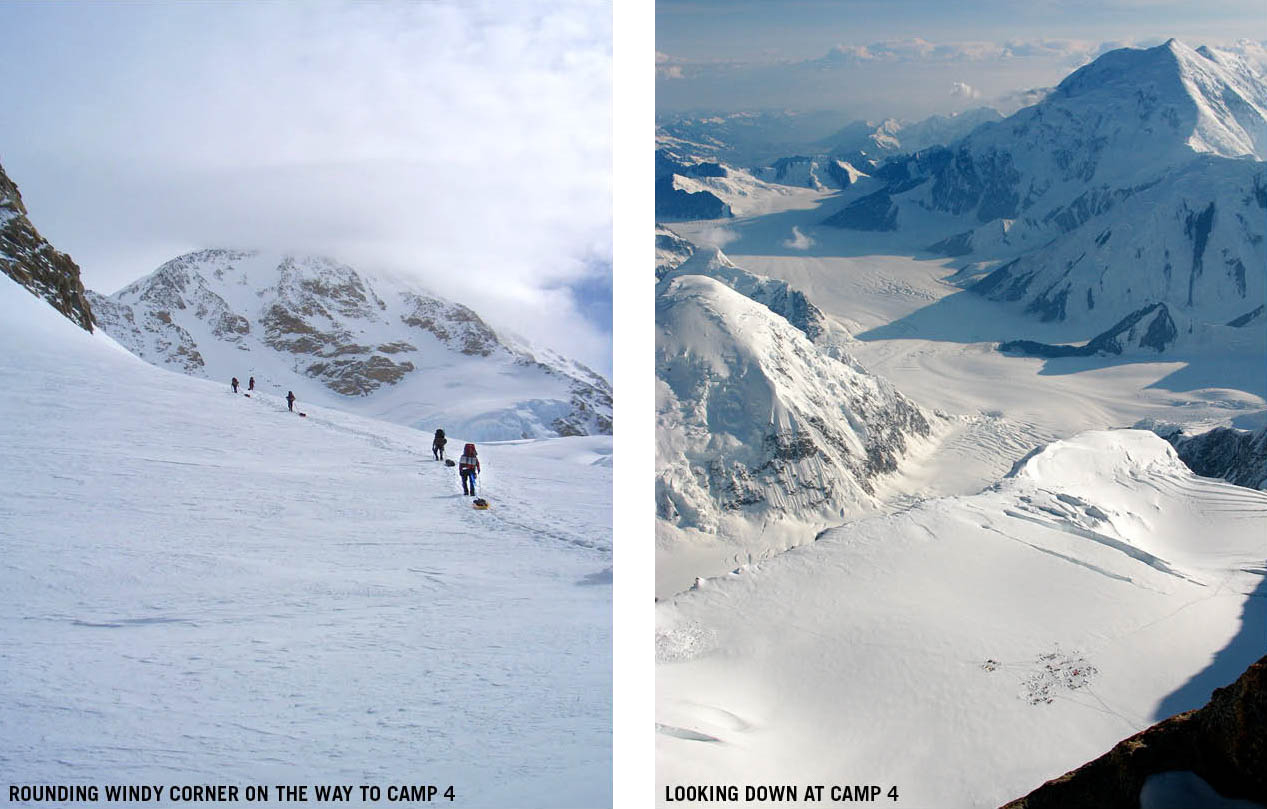 Day 11
14K CAMP TO CACHE (13,500′) • 14,200′ | 4,328M
We retrace our steps and descend to our cache site at 13,500′. After retrieving our gear, we return to 14K Camp to spend the afternoon improving our camp and relaxing.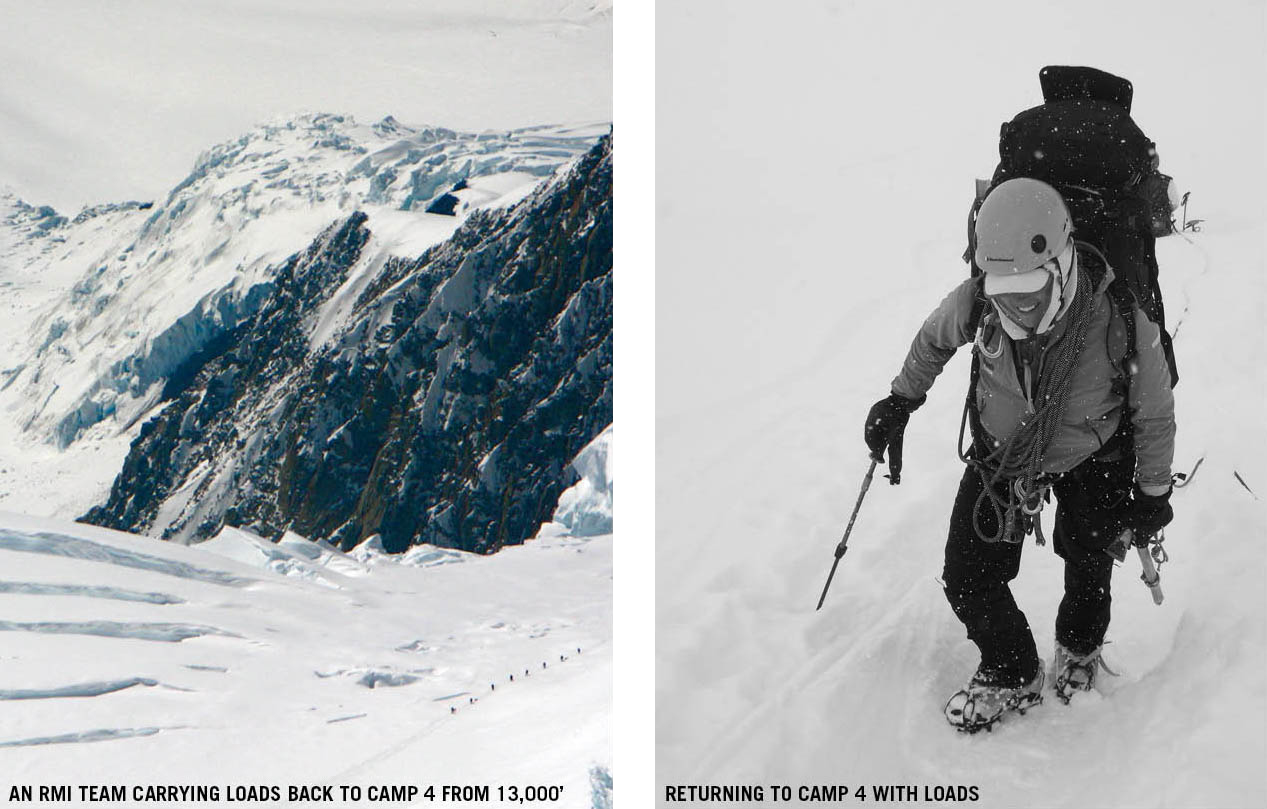 Day 12
ACCLIMATIZATION DAY AT 14K CAMP • 14,200′ | 4,328M
The focus of the day is to rest, hydrate, and let our bodies start to adjust to this new altitude. We practice fixed line travel and running belays, as well as sort another load of gear, all in preparation for our carry onto the West Buttress.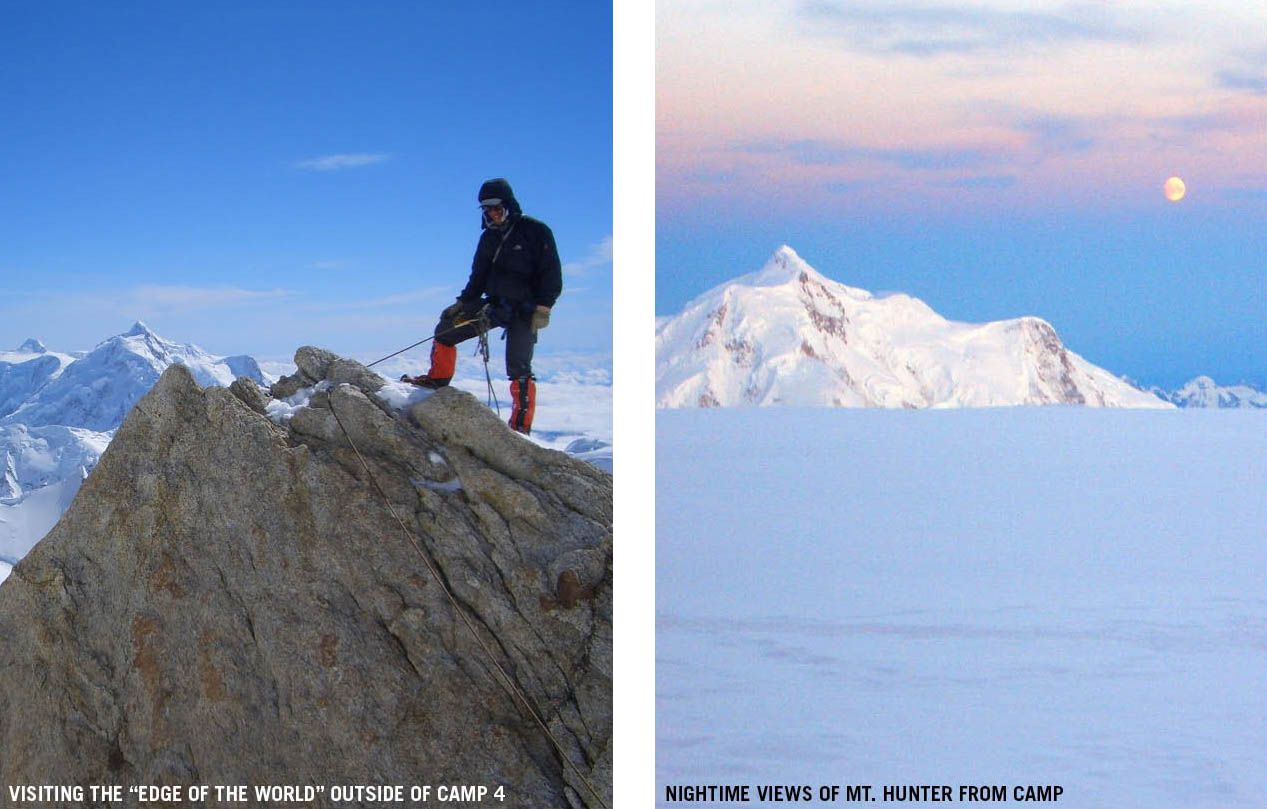 Day 13
14K CAMP TO CACHE (16,200′ – 17,200′) • 14,200′ | 4,328M
We ascend out of the North side of Genet Basin, gaining the fixed lines at approximately 15,200′ that top out at the ridge line of the West Buttress at 16,200′. Depending on time, weather, route conditions, and energy level, we may opt to make our cache at the top of the fixed lines, or travel higher along the West Buttress towards 17K Camp before caching. After leaving our loads, we return to 14K Camp for the evening.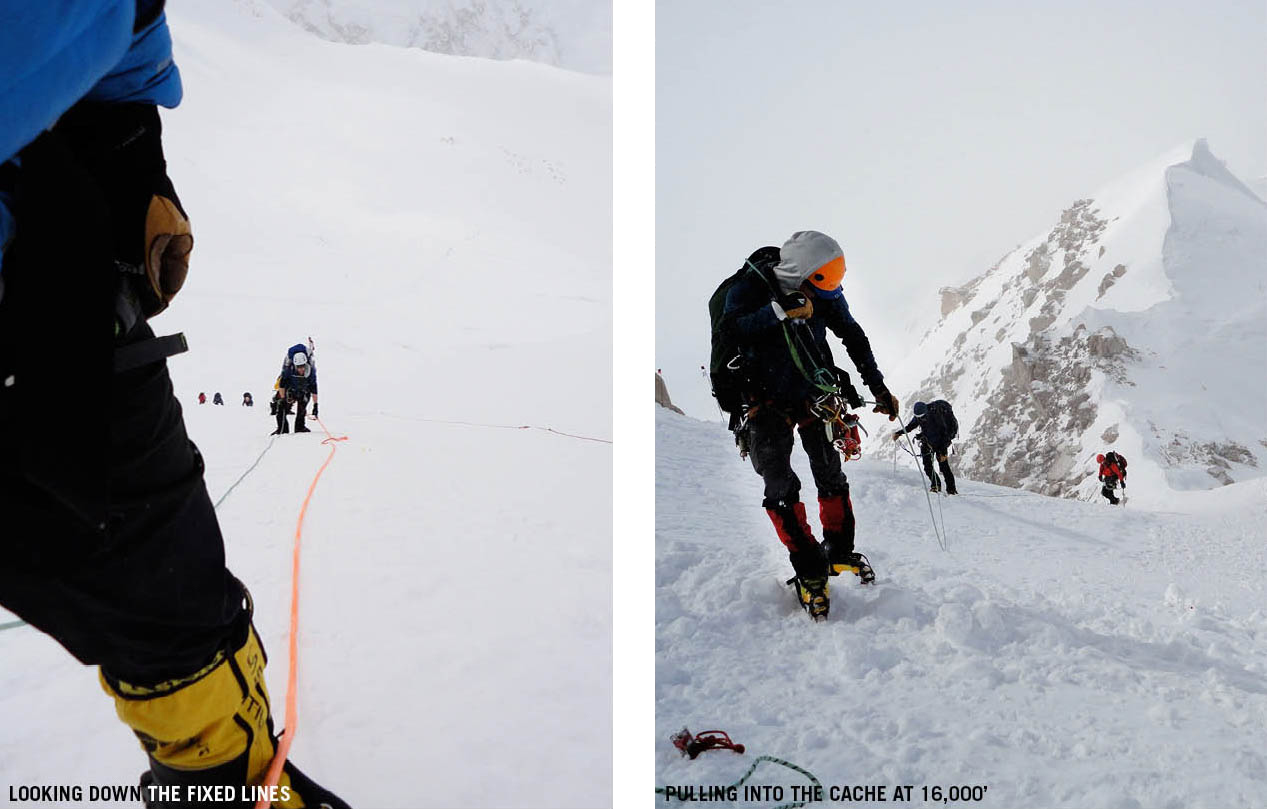 Day 14
ACCLIMATIZATION DAY AT 14K CAMP • 14,200′ | 4,328M
After a leisurely breakfast we make it our priority to hydrate and fuel throughout the day so that we're prepared for our move to High Camp and the summit push. Depending on weather, we may stretch our legs and take a short walk across Genet Basin to the Edge of the World. From here we can look down almost 7,000′ to the Northeast Fork of the Kahiltna, see our first camp at the Base of Ski Hill, and look across the valley to stunning views of 17,402′ Mt. Foraker.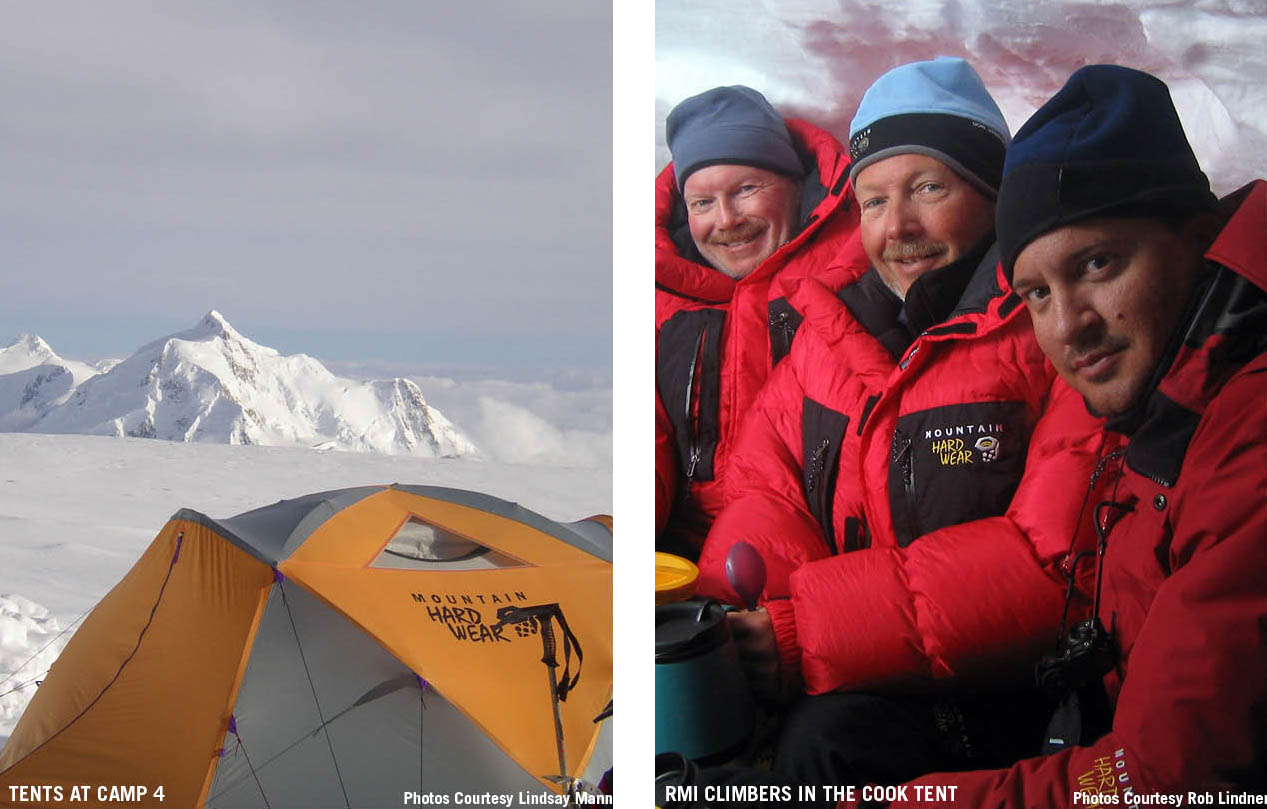 Day 15
14K CAMP TO 17K CAMP • 17,200′ | 5,243M
We ascend the North side of Genet Basin once again, gaining the fixed lines to the ridge crest of the West Buttress at 16,200′. We travel along the ridge crest, stopping to pick up any essentials from our cache before continuing to our High Camp at 17,200′.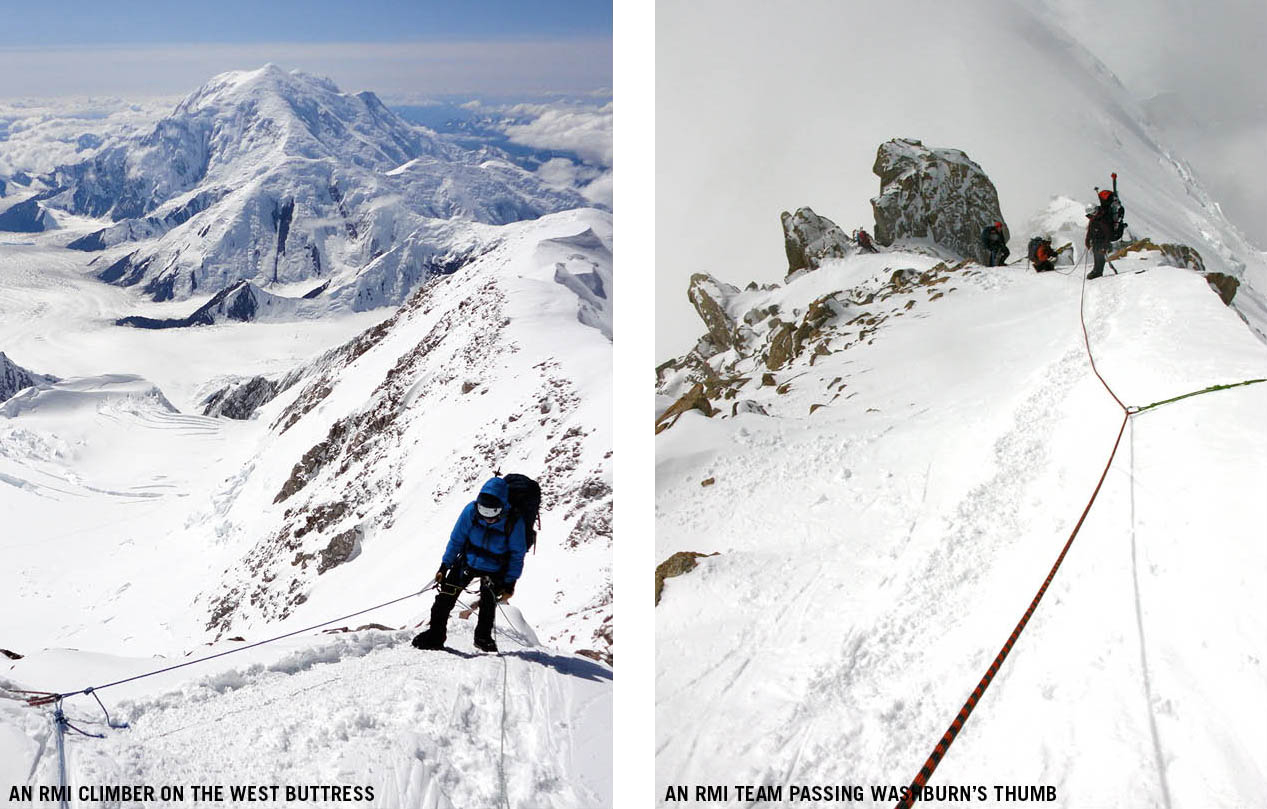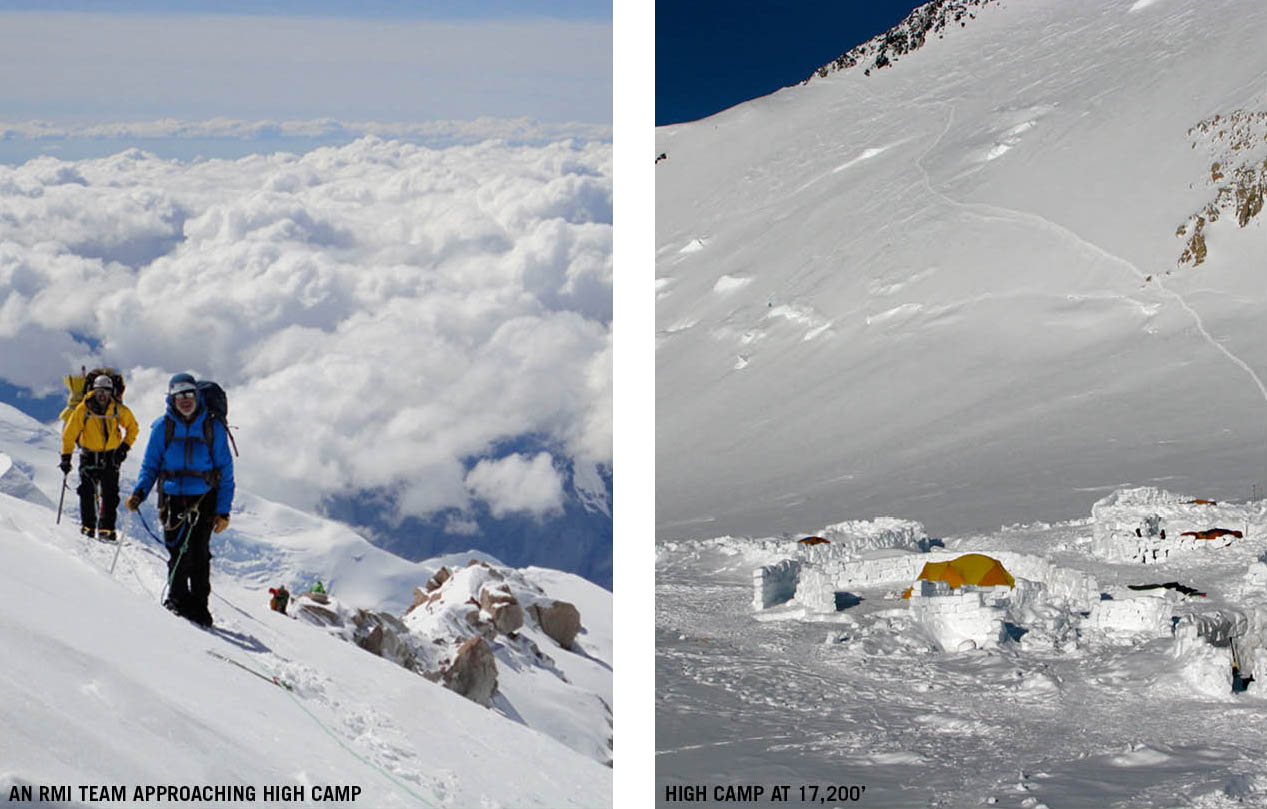 Day 16
SUMMIT DAY!20,310'• 17,200′ | 5,243M
Our climb begins with a long rising traverse along the Autobahn to Denali Pass at 18,200′. Beyond Denali Pass, we follow the ridge line, passing the Zebra Rocks and the Archdeacon's Tower before gaining the Football Field at 19,200′. Six hundred vertical feet of climbing leads us to the top of Pig Hill and the summit ridge. We traverse the airy summit ridge to the top of the South Peak. After celebrating on the summit, we descend our route back to High Camp. Summit day can be long; you should train for a 12 to 14 hour round trip.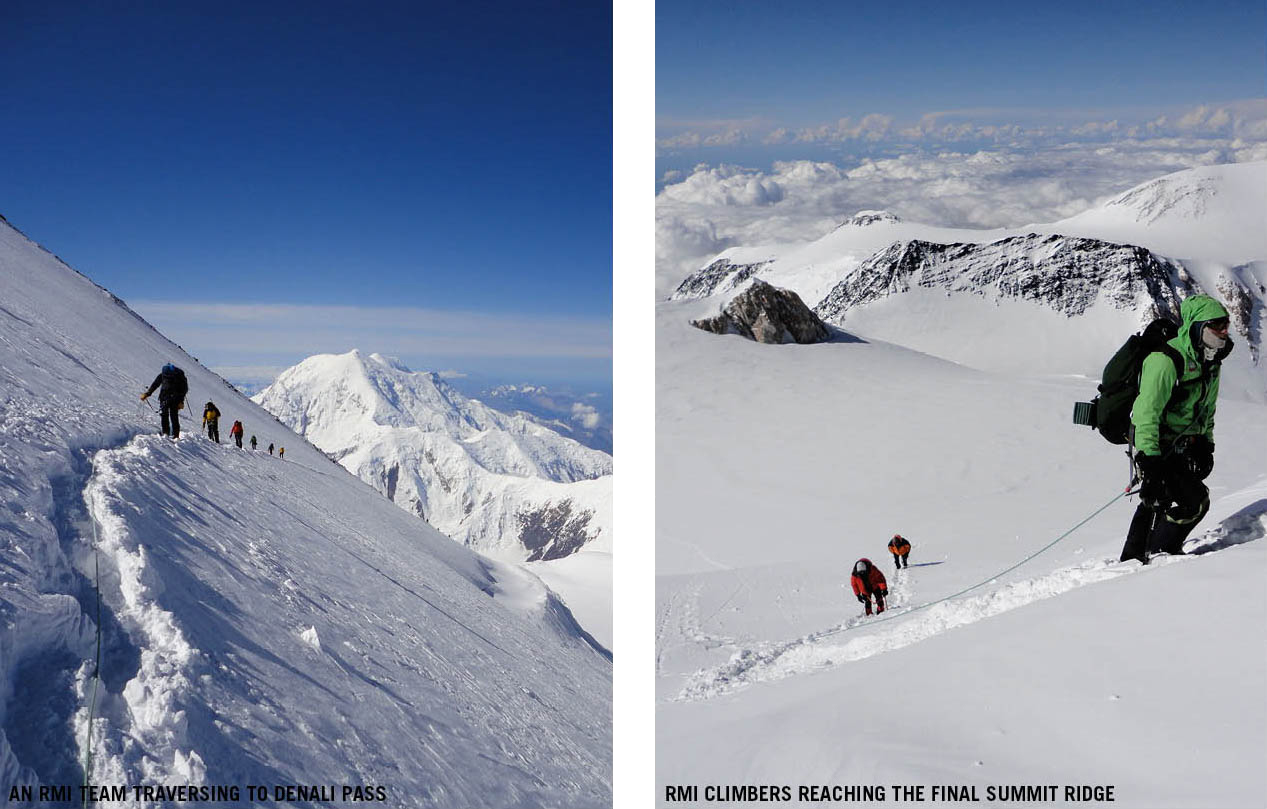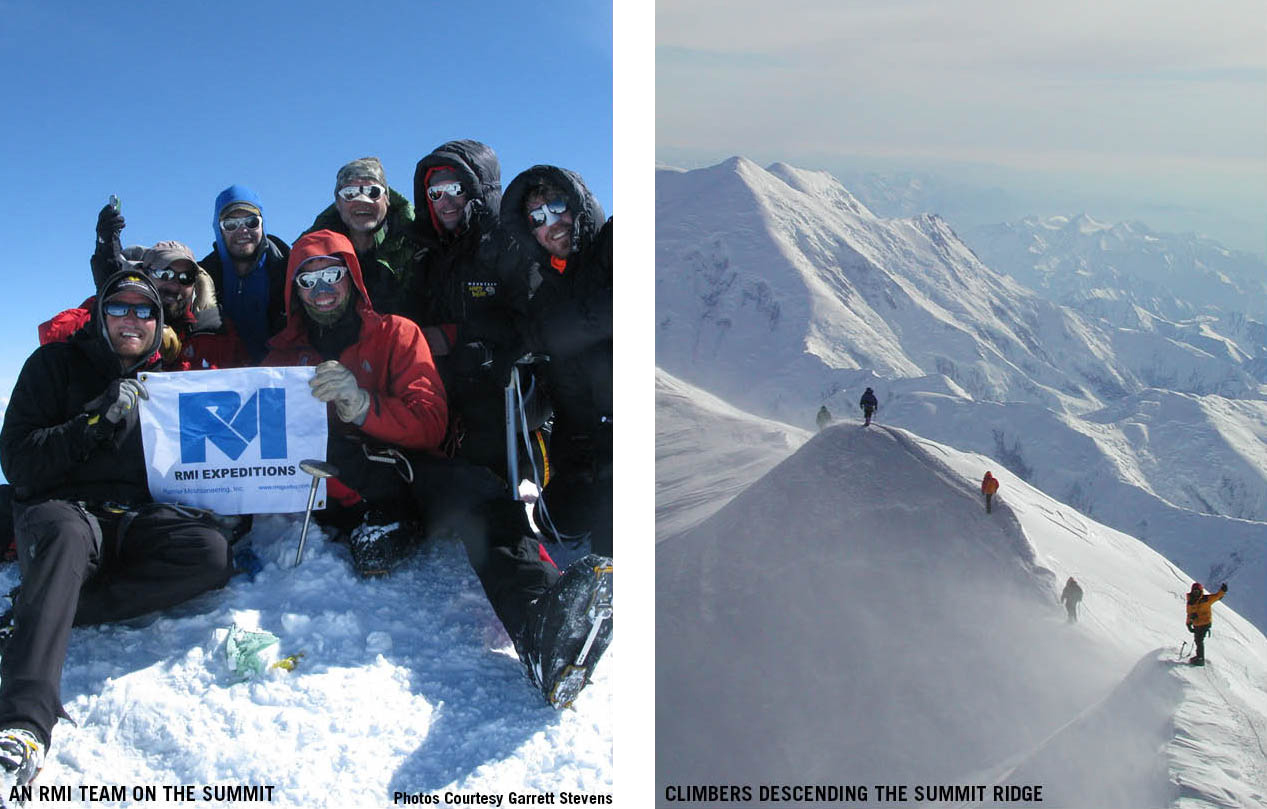 Day 17
17K CAMP TO 11K CAMP • 11,200′ | 3,414M
After a well-deserved rest we pack camp and begin our descent back down the West Buttress. We stop briefly at 14K Camp to retrieve any cached items before continuing our descent to 11K Camp, where we stop for the night.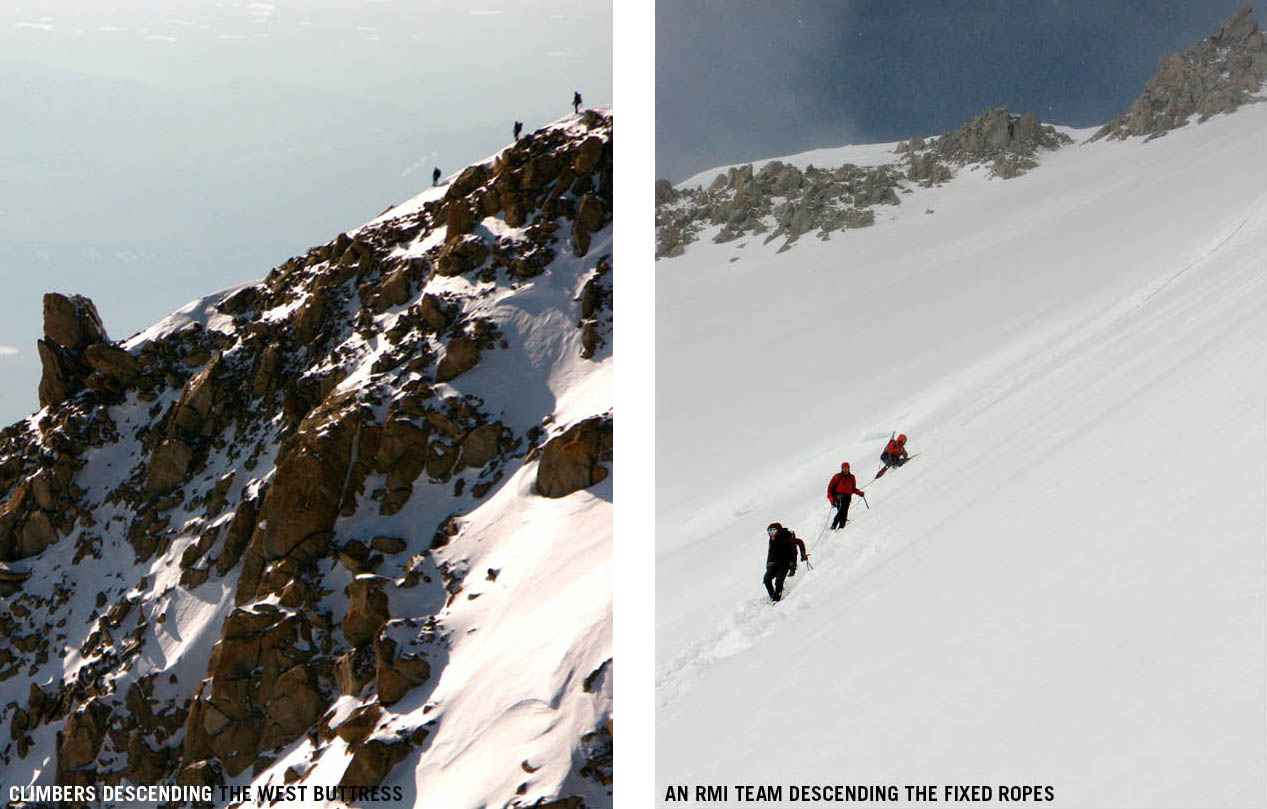 Day 18
11K CAMP TO KAHILTNA BASE CAMP • 7,300′ | 2,225M
We re-rig our sleds, don our snowshoes, and begin our descent of the main Kahiltna Glacier back to the base of Heartbreak Hill. We then turn our sights back uphill to Kahiltna Base on the Southeast Fork of the Kahiltna.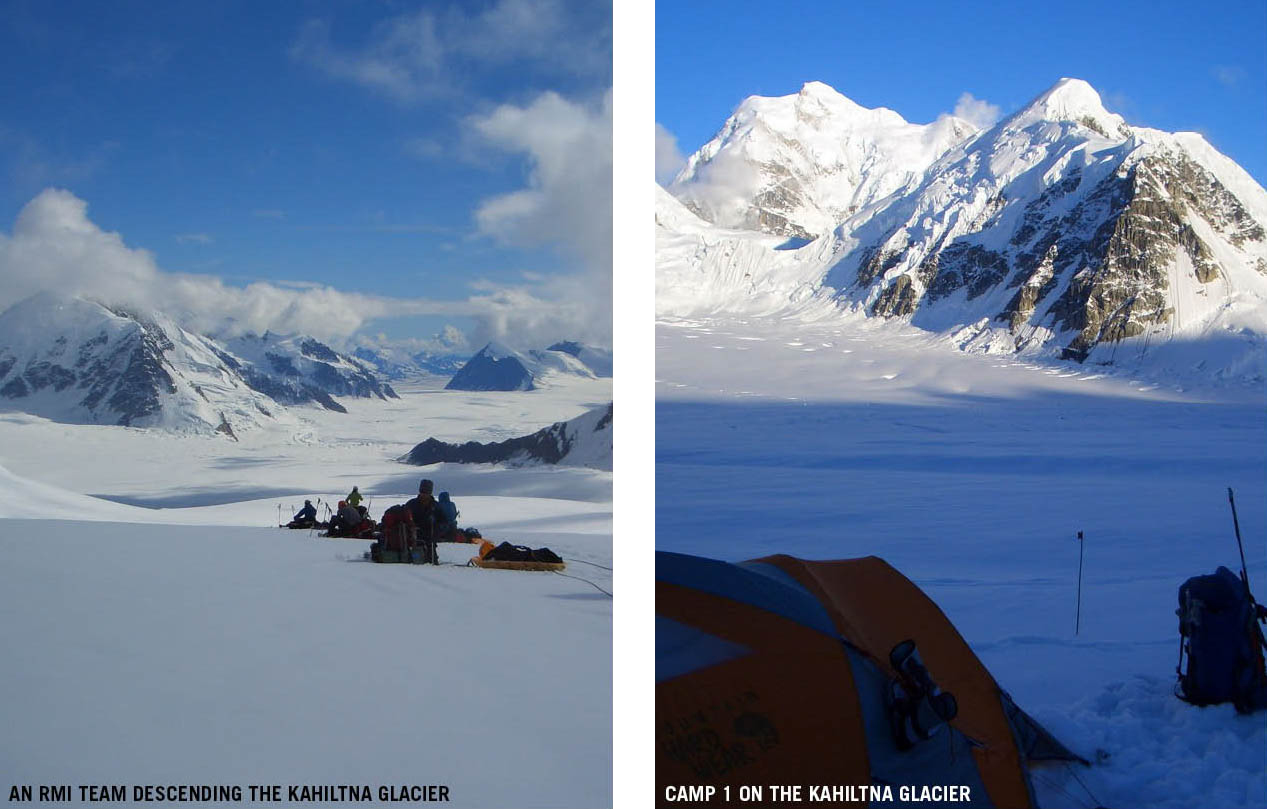 Day 19
BASE CAMP TO TALKEETNA (FLY OFF) • 348′ | 106M
We load up the planes and return to Talkeetna to enjoy a hot shower and celebratory team meal. Overnight in Talkeetna.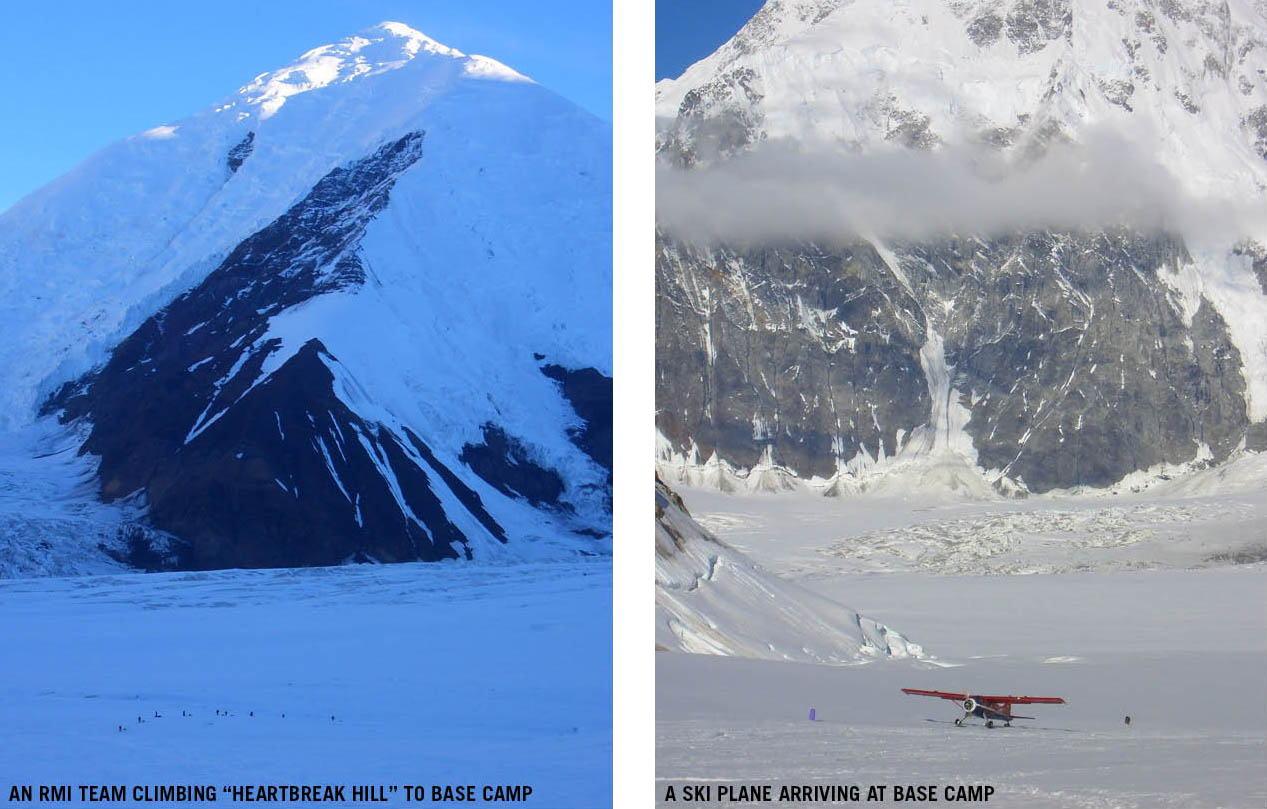 Day 20
TRAVEL
Transfer to Anchorage International Airport (ANC) for our outbound flights.